Black Ops 4 Tips and Tricks
---
The specialists theater allows you to see all 10 specialist's backstories and how they got all of the power ups they have.
The first specialist is Ajax, his power up is a riot shield that has a pistol hole to shoot out of. His ability is to throw flash bang grenades, which blinds and immobilizes your opponent.
The second specialist is Battery, her ability is a cluster grenade to injure or kill as many opponents as possible. Her power up is a grenade launcher called the War Machine, she can "battery" anywhere killing countless opponents.
The third specialist is Crash, his ability is that he can drop something called and assault pack which reloads any player on your team. His power up is to give everyone a 50 health boost on your team including you.
The fourth specialist is Firebreak, his ability is to set a nuclear reactor damaging or killing anyone in it's huge radius. His power up is a flamethrower which kills enemies even if they escape.
The fifth specialist is Nomad, his ability is to shoot a tripwire mine that when enemies cross it, they immediately die with an explosion injuring any enemies nearby. His power up is to summon an attack pit bull that is extremely hard to kill and kills opponents with one harsh bite.
The sixth specialist is Prophet, his ability is to spawn a robot that goes to enemies and shocks them leaving them immobilized for up to 10 seconds while you can shoot at them. His power up is a sniper rifle which has the same effect as the robot but happens after damaging the opponent with the bullet.
The seventh specialist is recon, his ability is to send out a sensor dart which has a 10 foot radius that can see anybody that comes within range of it. His power up is to use his Night Vision goggles to see everybody on the map for up to twenty seconds, unless you die.
The eighth specialist is Ruin. Ruin has a awesome ability, he can ground slam. Ground slam is an ability to jump in the air and pull out a metal battering ram and kill everybody in a 10 foot radius. His other ability is to be able to use a grappling gun to fly across the map.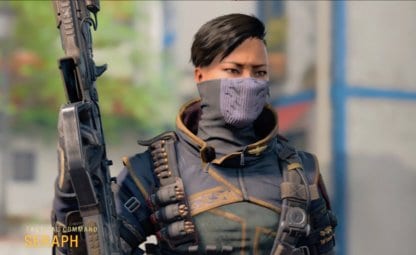 The ninth specialist is Seraph. One of her abilities is a Tac-deploy beacon. This allows your teammates to spawn in anywhere you put it. Her other ability is the annihilator which is a hand held cannon. Sadly it only has 6 shots in the cartridge but it is a powerful gun.
The final specialist is Torque. His ability it to place down razor wire which damages enemies when they walk on it. His power up is to place a barricade which damages enemies in front of it and provides a shield for the players behind.
---
One of the big accomplisments in the game is getting the skin Dark Matter for all of your guns.
---
Dark Matter is a skin for your guns which takes a lot of work to get. You have to unlock gold for every single gun in the game. To get the gold skin you will have to get either 100 "one shot, one kills", or 100 headshot kills. This part is very tedious because it can take a lot of time. For example, it took me 5 hours of straight gameplay to get all 100 headshot kills. Then you have to complete 5 different very hard challenges with the gun such as, get 5 kills without dying 5 different times. Completeing these challenges took me 3 hours of straight gameplay.
Dark Matter Website
---
After you get gold, you need to get gold on every single gun in the class to get diamond. This as you can imagine gets very difficult. This can take up to 40 hours of straight gaming.
---
To get dark matter you will need gold on all 29 guns. This can take up to 232 hours to finnally unlock Dark Matter.
---
Prestige is a leveling system for the game to make all of the matches fair. To level up takes a lot of time and work so getting to level 55 takes about 3 months. Each time that you get to level 100 you have the ability to prestige which changes your emblem so that you will be veiwed as one of the higher leveled players. One can Presteige 10 times and become a Prestiege Master, but that can take years for an average player to acheive.
Presteige Website
---
Learn more about how to get the game here!