BO4 TIPS AND TRICKS
---
THIS PAGE WILL HELP YOU BECOME A BETTER BO4 PLAYER.
READ ON TO FIGURE OUT SOME GOOD CLASSES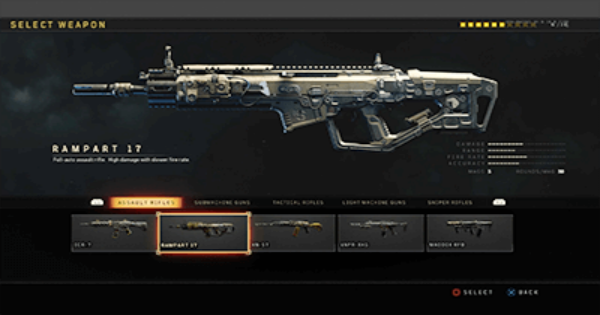 The Rampart 17 is a high powered Assault Rifle. Being apart of the AR family, it has 4 other weapons to compete againist. It has the most power out of all of the AR's which makes it an ideal rifle to run with. It is pretty good at all the ranges.
The Cordite is a great SMG for close range. The one reason it is so good is because of its ability to have a 630 round magazine. The only way you can get this attachment is by getting the operator mod. Like every other gun you have to get it to max level before you can unlock the operator mod. Since this gun is a SMG it does not have good range you need to attach the fore grip on it and the long barrel. The long barrel adds better range to it.
The Titan is such a powerful LMG. It has some of my favorite iron sights in the game. This gun is crazy good at every single range includign short range. Since it is such a big gun it has some recoil on it but it packs a deadly punch. Once the enemy is lined up perfectly within the sights all you have to do is hold down the trigger button. It has a small magizine compared to the BO2's LSAT'S 175 ROUNDS. the titan only has a 75 round magazine until you get the extended mags which gives you 105 which is alot. It only takes about 4 shots to kill a enemy.
The Koshka is a high powered sniper rifle. This gun is ideal for medium to long range. Its operator mod is called the Strelock. The strelock allows you yo hit nasty quickscopes. When you go into ADS, you just shoot and anybody whithin a couple feet of your scope outline is dead. The Koshka is a beast with the normal scope because of its reticle.
Lastly the Daemon is a 3 round burst SMG that does not do to good at long range.but short to medium it is really good. You have to have the stock equiped on it to be able to have good range and controll of the gun. It has some pretty good iron sights but not the best. I would suggest getting the reflex sight.
Hopefully some of these tips and tricks helped you. Click these hyperlinks to see other black ops websites COD home page Weapon list Click here to buy the game