An Abridged Guide and Index of Interior Design
---
Within this brief webpage, you will be introduced to trending design techniques, images, articles, preferred shopping items, room designing assisstance, and much, much more! Be sure to check in often for 'up to date' notifications and material, and so you can continue to explore and enjoy the wonders of interior design! Happy designing!
---
~
• Section One: Interior Design Images •
Check in Weekly for New Images! Last Updated: December 9, 2021
~
• Image Comments •
---
This trendy bedroom is a mix of American and Bohemian design. It is common to see many woven and pale wood accents throughout, as well as plants and neutrals in rooms like this one! Modern Bohemian design is great for any household, as it is timeless, changeable, and gorgeous!
• Image Comments •
---
For this week, I chose the pictured kitchen as it displays a beautiful, flowing kitchen that showcases many trendy designs – from the accent color cabinets to the square tiled backsplash, this is any interior designer's dream!
For this week, I chose the pictured kitchen, as well, for it also displayed a great use of trendy and timeless aspects. I love the natural light, size, and simplicity of this space, as well as the herringbone pattern for the gorgeous hardwood floors.
This photo is a prime example of interior design on a budget! I not only love this space for its attractiveness, but for its great design using low priced items. Even the least expensive rooms can be the most attractive!
~
• Section Two: The Weekly Article •
New Articles Every Week! (Find previous articles in 'Archived Articles')
~
---
This Week's Topic: Designing a Room From Top to Bottom
---
The following article is written in bullet point form.


Before reading, it is important to keep the following in mind:

• Be sure your furniture flows with the style of your home, with additional trending features.
• With traditional homes, incorporating modern pieces that have detail and character to them is critical for an appealing space.
• Using contemporary furniture works best in modern spaces, and rustic features work well in more modern farmhouse/rural homes – with this being said, try to mix and match your styles – the best way to design a room without character is to design without a variety of styles, like having a room with only modern pieces...No, no, no!

• To begin, start with observing your flooring. Typically, in the spaces you are designing, you do not have a choice over altering your flooring material or color. (Additionally, in some cases, you also do not have the choice to alter your wall color, either.) In these cases, base your room around these aspects. The best spaces come out of this method, because they typically turn out uniquely, and they don't clash – in fact, they flow perfectly!
• For example, if you have a non-trending orange tinted floor, do not fret. You wouldn't believe the shades of orange you can beautifully incorporate into your space for 'pop,' as well as other natural colors.
• Take a look at this photo, where the designer worked with their orange flooring to make a beautiful space. Observe how they brought out the orange features in their furniture with blue, white, and pink compliments, and finished it off with gorgeous neutrals.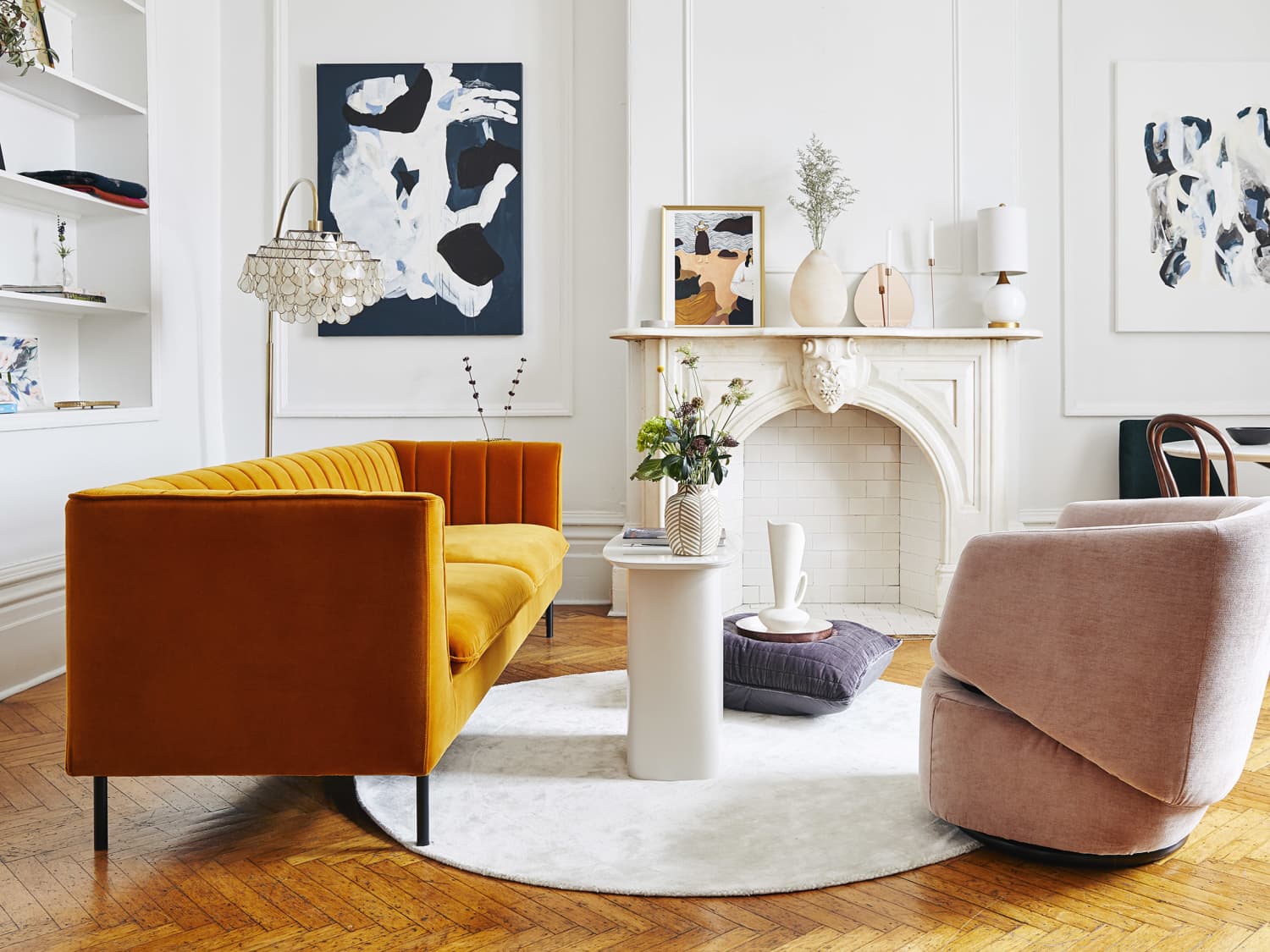 • Secondly, choose a rug. Rooms without rugs are too sterile and aren't cozy. Choosing rugs can be difficult, but you want a rug that blends in with the room, and adds a nice touch to it – you don't want it to stand out too much. The best rugs are the ones that have multiple colors and designs. Use this rubric to help which rug colors go best with your room:


---
First Color (Main Color) •
Second Color (Accents, Design) •
Third & Fourth Color
Rustic Gray, Rustic White,
Slight Brown Color
Main Theme Color of the Room
(A 'Pop' Color)
Second 'Pop' Color,
or Darker Neutral
---

Attractive carpets can also have more neutrals and 'pops' for fifth and sixth colors – those are my favorites!



If you have enjoyed this website, please let me know, and I will finish it! Look forward to: a shopping center, designing corner, miscellaneous, and much, much more! See you next time!