JoJo's Bizarre Hub
---
Do you like Jojo's Bizare Adventure and just want to know more about it or learn to draw the charactars and other stuff well uhh I geuss you will like this?
Fun facts about jojo!
Yara yara daze doesnt just mean Good Grief it can also mean What a pain or give me a break.
Originally Fugo was supposed to be the main antagonist of Vento Aureo (Golden wind) but Araki was quite depressed at the time and thought that it would be to heavy for the reader to see a good guy turn totally evil. This leads to the idea of Diavolo and Doppio.
I just realized that anyone who is reading this isn't gonna know about jojo sooooo I am just gonna explain some of it to make you guys thing I am insane
so this is the Jostar family tree the protagist of jojo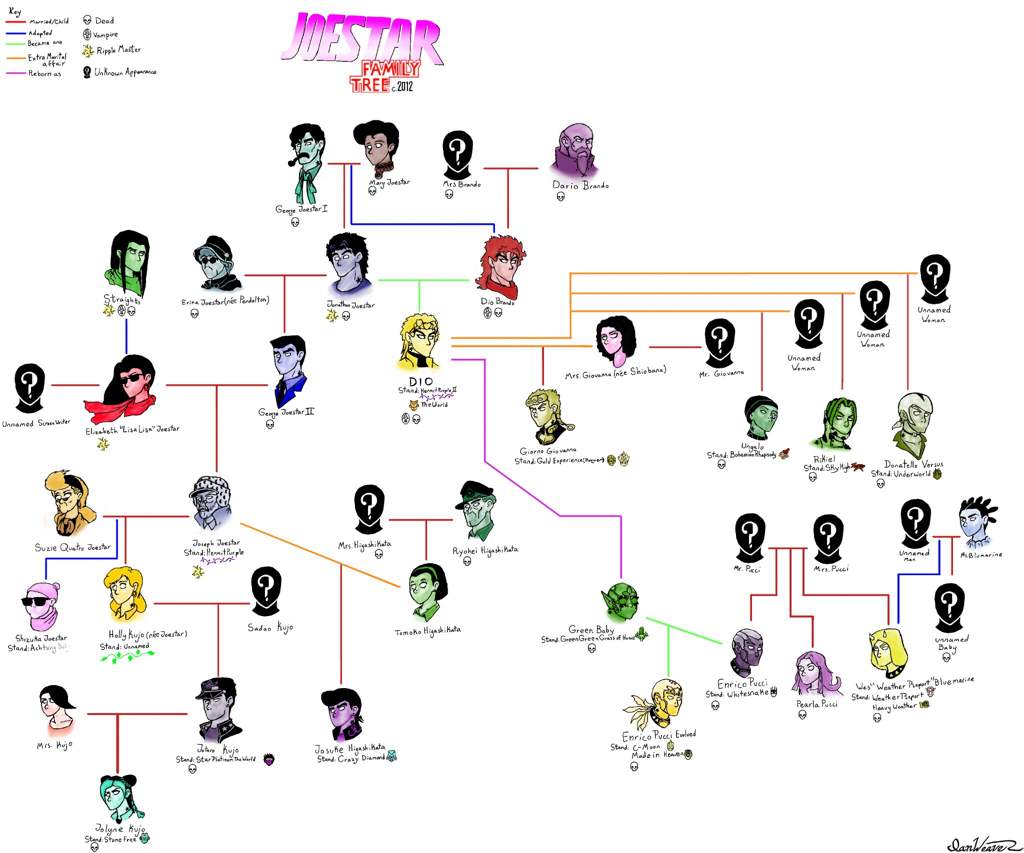 note that the protagist have jo in the first part of there

The main Jostars are:

Jonathan Joestar

And of corse there are also antagonist in jjba

Dio Brando

This is the Jojo

Timeline

my friends

So with drawing the characters from Jojo I suggest jsut studying the style and start by tracing. That is what I did and now I draw in the jojo artstyle normally.. It may look hard, but you can learn it and you will be proud when you do!

My stand

**⇘【 Guns and Roses 】⇙**

[ stand type ]

Close range power type

▂▂▂▂▂▂▂▂▂▂▂▂▂▂▂

** 〘ability name〙**

-* Bad Blood *

So the ability of the stand is that it effects blood and can do many things with it .. like poison it .. make it super hot causing it to explode

Though the catch is that the user has to inject their own blood into the opponent

This doesn't mean that the user will be effected by what the user does to the blood.

The injection of the user's own blood allows the control of the opponent's?

▂▂▂▂▂▂▂▂▂▂▂▂▂▂▂

**STATS**

〖 DESTRUCTIVE POWER: A 〗

〖 SPEED: B 〗

〖 RANGE: D 〗

〖 PERSISTENCE: C 〗

〖 PRECISION: A 〗

〖 DEVELOPMENT POTENTIAL: B 〗

▂▂▂▂▂▂▂▂▂▂▂▂▂▂▂

**APPEARANCE**

* A tall humanoid figure wearing a crimson red top hat with a feather in it along with a crimson suit and tie. It's button up shirt under the suit is black and decorated with a grey rose print. It is about 6'4 in height. It also wears a "mask" on it's face that is usually in a smile. It wears white gloves as well. It's fingers can flip open revealing what seems to be a round bullet that it can shoot out from its fingers. One finger in each hand is also a syringe.

▂▂▂▂▂▂▂▂▂▂▂▂▂▂▂

**WEAKNESSES**

*Things that can heal, control blood in a different way or thing was .. no blood

▂▂▂▂▂▂▂▂▂▂▂▂▂▂▂

Namesake - Bad Blood - Elton John

The band Guns and Roses

And that is it .. I'd suggest looking into it at your own risk of getting obsesed with it ;-;